MacPPP configuration for Surfari Internet
Note-These settings are for MacPPP 2.xx (older versions)
---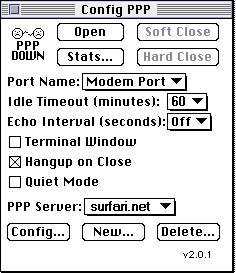 Step One
Open 'Config PPP' from your Control Panel Icon.
Leave the top four buttons alone
Select the appropriate Modem Port
Setting the Idle Timeout to a high setting is recommended, 60 or more minutes.
Set the Echo Interval setting Off
Uncheck the Terminal Window box
Check the 'Hangup on Close' box
Uncheck the 'Quiet Mode' box
Skip the 'PPP Server' pull-down
Click the 'New...' button
After clicking the 'New...' button, you should make sure that the next window looks like the picture here.
Enter 'surfari.net' in the text box and click OK
With 'surfari.net' now in the PPP Server pull-down menu, click the 'Config...' button. A new dialog box will appear with 'surfari.net' highlighted in the top field as shown in Step Two below.
---
Step Two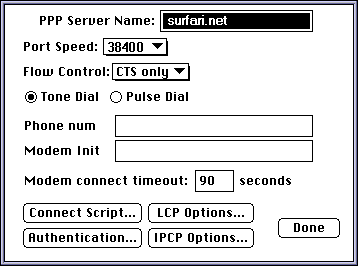 Select 38400 as the port speed for now. After everything else is up & running, you can experiment with faster serial port settings.
Select 'CTS only' flow control if you have the proper hardware handshaking serial cable (most current Macintosh computers do.)
Select Tone Dial if appropriate
Enter 597-3090 in the 'Phone num' field. For those that have call waiting, please enter *70 before our phone number; ie. '*70, 597-3090'
Leave the 'Modem Init' field empty unless you need special modem AT-commands and you are familiar with how to set them up.
Leave the Modem connect timeout at the default 90 seconds
Now, Click the 'Authentication...' button and continue to Step Three below.
---
Step Three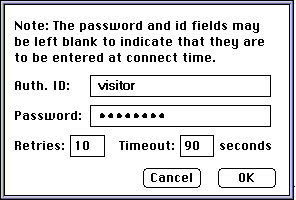 After clicking the 'Authentication' button from the previous window... you should make sure that the next window looks like the picture here.
Enter your 'username' (ie. login name) in the Authentication ID field (do not include '@surfari.net'). The 'visitor' entered here is an example.
Enter your 'Password' in the password field, all 'dots' will appear. Your password is the one you selected when you setup your Surfari.Net account.
Leave the other fields alone and click 'OK'
You are now back at the PPP Server configuration dialog. Leave the other buttons alone and click 'Done'
Test the configuration by clicking the 'Open' button in the main Config PPP control panel. The modem should dial out and connect to 'surfari.net'. A new alert will appear stating that the Login Succeeded (assuming you have everything correctly setup). Click on 'OK' and you will have a live IP connection to the Internet!
If the connection failed retrace your steps above, checking for improper-cased charactors or IP addresses in the wrong format. IP addresses should all be entered as 'nnn.nnn.nnn.nnn' where nnn is some number between 0-256 separated by periods, or 'dots' as is the preferred terminology for the internet.
Once you establish a successful connection, you can launch any TCP/IP application like (Eudora, NetScape, Fetch, etc.)
&COPY Surfari Internet Providers Page last updated on